LYN IAN
I WAS BORN AN ARTIST.
Great good fortune has given me the luxury & opportunity to create art both personally and professionally.
Once upon a time:
I was a University Professor [CSULB] teaching Printmaking. Fine Art Lithography was my favorite technique.
Eventually I moved North and for eight years owned a plant nursery in Carmel Valley Village which educated me in horticulture. It also funded my first computer, an amazing Falcon Northwest Mach V. I chose that machine because I played RPGs, rather obsessively. Then I discovered Photoshop and Dreamweaver and Flash.

Experience with Flash animation was my gateway to working for eight years in Technology Integration at the Defense Language Institute Foreign Language Center [DLIFLC]. My software skills expanded to include Adobe Illustrator and InDesign.
I'm crazy for Illustrator's Gradient Mesh tool and am passionate about digital art. My third, prized Falcon Northwest computer and an Epson archival printer combine to produce wow-quality fine art prints.
Too, I love to draw with Prismacolor Pencils, adding other mixed media collage on paper.
My home studio is on a quiet oak knoll; the ever-changing garden continues to morph into planters and pots of veggies and herbs, fig trees and citrus.
My wonderful, vegan, runner boyfriend encourages me to make art. Our adorable dog and somewhat-annoying-but-beautiful cat are our constant companions. More than this, well, please ask me.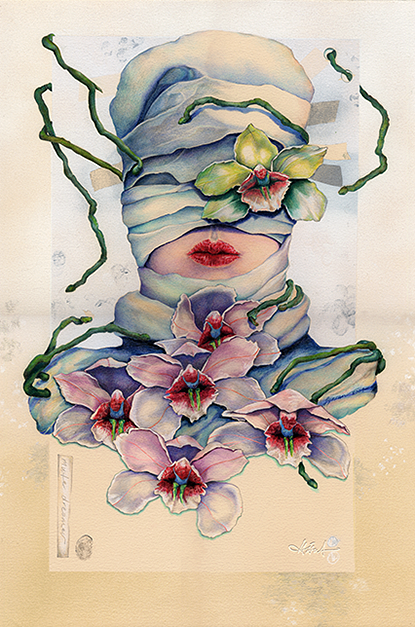 ASK A QUESTION | MAKE A COMMENT
CONTACT ME
To send a message, please visit:
To see more, please visit these links:
It would be lovely to hear from you.
STUDIO Lyn Ian | Carmel Valley | California | 93924